Slacking off on washing makeup tools?You need this mini wash machine.
The girl who make up every day may have such trouble, although also know how to clean beauty makeup tool, but often lazy, how to do, so we found this wash beauty makeup tool "artifact"!
Actually this is not the new thing that what beauty makeup brand gives, but a plastic toy washing machine of the child, it and washing machine are same, the function that has spin and drain water, because make very true to life, resemble washing machine really downsize edition.
Be love beautiful girl discovery, developed its special function. People use it to clean their makeup tools.
As long as you add some cleaning fluid to the makeup tool, you can clean it up. The powder puff and the smaller makeup brush are completely stress-free.
"Also too convenient, is simply lazy Gospel, can replace hand washing, the process is also fun.
"Even the kids' toys!
图片来源 ins pongpongtoy
图片来源 ins phoneseoul
Some people even use it to mix drinks, which is so creative, this mini washing machine really takes too much.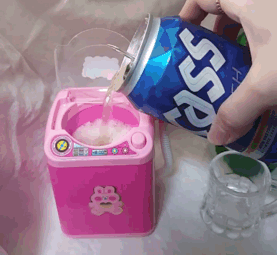 图片来源 ins daiso_bongbong
When washing makeup tools, do not put too much water, or easy to overflow, after all, the family is a small toy, do not be too serious. Everyone interested can get one.