"China Skin Care Week 2019" was launched in Shanghai
Chinanews.com Shanghai news, March 25, China. A few days ago, "the truth don't fungi, love family, health care" series of education activities and disease "skin care week" in China in Shanghai in 2019 started, to raise the public's awareness of body skin health and correct cognition and specification of universal common skin disease diagnosis and treatment concept, to help patients and their family from illness, and called on people to give love family healthy skin.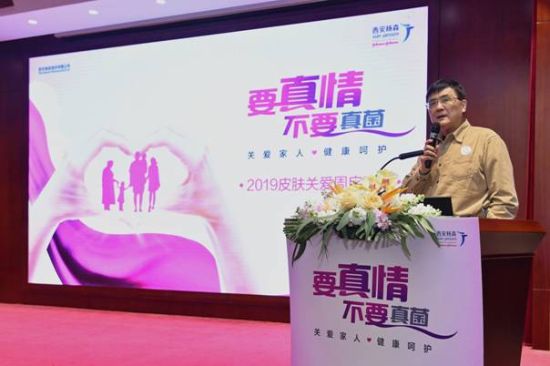 Professor zheng jie, director of dermatology department of ruijin hospital affiliated to Shanghai jiao tong university school of medicine, said, "China skin care week has been successfully held in China for 21 years. The theme of this year is "care for family members, care for health", which aims to enhance public awareness of skin health and call attention to the elderly and children with a high incidence of superficial mycosis in families. At the same time, this year's activity will also launch the "three people in dermatology" project, continue to use the online platform to cooperate with authoritative dermatology experts, young and middle-aged dermatologists, patients and the public to jointly build an anti-fungal disease standardized diagnosis and treatment ecosystem. Protect health with true feelings, further improve the public's attention and awareness of superficial mycosis, allergies and other skin diseases, and jointly protect the skin health of the whole family, away from diseases."
Fungi exist widely in nature. With the increasing abundance of domestic family life scenes such as home, parent-child, travel and outdoor sports, the risk of fungal infection through different transmission sources and transmission channels also increases. On the other hand, the main species of pathogenic bacteria of superficial mycosis changed over time, and presented the characteristics of diversity and complexity of mixed infection: the distribution of pathogenic fungi changed significantly, the proportion of dermatophytes decreased, yeast had the tendency to catch up, and the diversity of pathogenic fungi was more significant than before. Candida infection increased year by year, in the body tinea, tinea pedis, onychomycosis and other superficial fungal infection, candida albicans has become an important pathogen. In addition, sporotrichosis is a saprophylaxis of soil, wood and plants. Contact with substances contaminated with sporotrichosis after skin trauma can lead to sporotrichosis.
"There are three types of dermatophytes: relatives, animals and soil. Children may be at risk of catching superficial mycosis if a family member has an infection with the bacteria, or if it is carried or infected by a family pet, or if it is a parent animal or a parent soil. Accurate diagnosis is an important prerequisite to an effective treatment of superficial mycosis, "Chinese academy of medical sciences, skin disease hospital fungal branch director professor wei-da liu made it clear:" the treatment of superficial mycosis was divided into local topical antifungal drug therapy and system of oral medication, oral antifungal drug treatment system is local external use drug treatment short course, high compliance, low recurrence rate. The change of superficial fungal species suggests that the treatment of superficial mycosis requires a broad spectrum of effective antifungal drugs, and patients should follow the doctor's advice to complete the full course of treatment, and adhere to standard treatment.
This year's "China skin care week" includes a series of online and offline disease publicity activities, such as online science class and offline disease publicity activities organized by many dermatologists and young and middle-aged doctors, to help patients and their families stay away from diseases and enjoy a happy life. Xi 'an yeung sum President AnSiJia (Asgar Rangoonwala) said: "we will hand in hand to build more Chinese dermatologist for the public area as the center of the domestic dermatology skin health of ecological system, in the form of more innovative, rich in popular science education, assignment of dermatology at the grass-roots level professional level, the patients to provide more specification for the treatment and service, with genuine feeling, for love relay, better meet the demand of Chinese families growing healthy skin care."