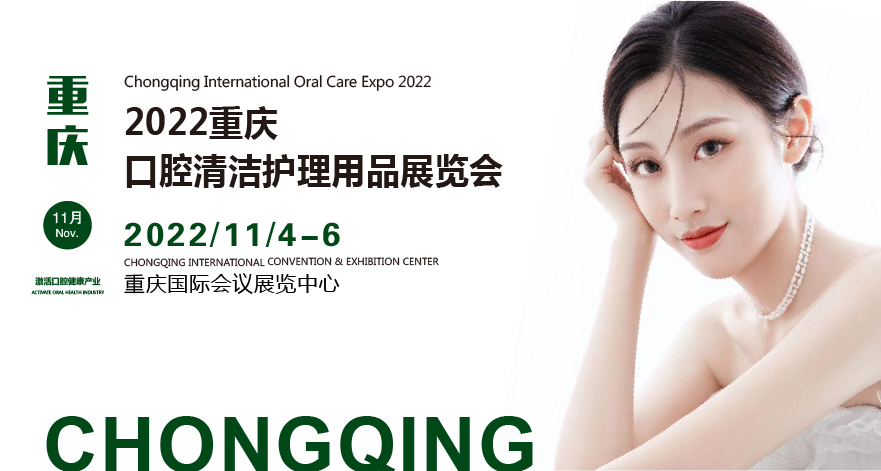 summary

In order to help enterprises develop the industry market in a comprehensive way, 2023 PCE Oral Care Expo will be held in Guangzhou Poly World Trade Expo from March 9-11, 2023, Shanghai New International Expo Center from August 4-6, 2023, and Chongqing International Convention and Exhibition Center in November 2023. Relying on the rich innovation resources and geographical advantages of Guangzhou, Shanghai and Chongqing, we will launch the linkage strategy of the core regions of South China, China, Central and Western China, comprehensively develop the PCE brand series exhibition map, and develop the service industry with more scale and better quality.

The scale of Chongqing oral exhibition is expected to reach 12000 square meters, with 300 exhibitors and 20000 visitors.


Previous Data
Professional trade exhibition of oral care products industry;

Covering the whole industry chain of oral care products, subdivided categories and upstream and downstream supply of the industry;

Exhibition groups and buyers gather here, and international platforms lead the trend;

Professional promotion plan and media cooperation, organize VIP buyers in all channels;







The exhibition highlights
The exhibition area reached 8000 square meters;

Attract 506 enterprises to participate in the exhibition, covering 30 categories of products; Association's exhibition groups share innovative resources;

The most professional personal care supply chain platform;

Invited professional buyers and visitors from countries and regions, a total of 9,650 visits;

10 professional forum activities were held at the same time.

Exhibitors
Daily Oral Cleaning & Care Products: toothbrush, toothpaste, tooth powder, tooth paste, dental floss, dental cleaning element, mouthwash, cleaning spray, gum, electric toothbrushes, oral irrigator and related products;

Oral beauty and care products and services: dental whitening instrument, nanometer veneers, super porcelain veneers, all porcelain crown, invisible orthodontic, beauty crowns and teeth, inter-dental brushes, orthodontic toothbrush, orthodontic braces and other orthodontic products, dental spa care device, oral paste, all kinds of efficacies gel, oral cleaning water, oral ulcer spray and paste and denture cleaning tablets, etc;

Related raw and auxiliary materials: different kinds of raw materials, such as tooth paste abrasive, active agent, thickening agent, moisturizer, food coloring and essence spices, etc;

Product packaging and equipment: Production equipments, packaging equipments, packaging materials and new technologies for oral care products such as toothpaste and toothbrush, etc;

OEM/ODM Manufacturers and other related products.

Target Visitors



Ø Purchasers, wholesalers, distributors, traders, agents, dealers and retailers;

Ø Stomatological hospitals, dental clinics, pharmacies,

Ø Chain supermarkets, shopping malls and convenience stores;

Ø Gifts and general merchandise buyers;

Ø Oral care product manufactures, brand owners;

Ø Industry media, mass media and we media;

Ø E-commerce platform purchasers, such as JDcom, Yihaodian, Amazon, Tmall, Taobao, etc;

Ø Wechat merchants.

Ø Government agency, industry associations and chamber of commerce;

Ø Others;